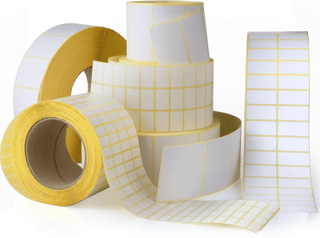 Direct Thermal

Thermal Transfer

Ideal for short-term, high-volume jobs
No ink, ribbon, or toners needed
Cost effective
Black print only—great for shipping labels
Label may fade over time (heat/sunlight exposure)
Can only print on heat sensitive labels

Ideal for high volume use applications
Utilizes thermal transfer ribbon
Color printing—great for logo and product branding labels
Print accuracy, precise edge definition—great for barcode printing
Resistant to fading and smearing
Durable & Versatile
Can print on a variety of label materials
Both direct thermal and thermal transfer label printing methods use thermal print heads to apply heat to the label material during printing; however, each printing method applies heat to the label in a different way. There are pros and cons associated with each thermal printing method depending on the intended use and application of the final label product.
Direct Thermal
Direct Thermal label printing method applies heat directly to the surface of heat-sensitive label materials. Direct thermal labels are specifically designed to blacken upon activation by direct contact with heat from the thermal print head.
This printing method does not require any ink, ribbon, or toner. Although fewer printing materials result in lower printing costs, ink-free printing only yields black print—meaning color printing is not an option. Additionally, since direct thermal label material is heat sensitive, exposure to heat or sunlight can cause the label to fade over time, reducing the life of the printed label.
Thermal Transfer
Thermal Transfer label printing method utilizes inks, toners, and a thermal transfer ribbon to print. Unlike direct thermal, this method does not require a specific kind of label material. Instead, the thermal transfer method is suitable for printing on a variety of label materials, including paper, polypropylene, polyester, etc.
In thermal transfer printing, the thermal print head applies heat to the ribbon to melt ink and resins onto the label's surface. The thermal transfer ribbon results in a higher initial cost than direct thermal printing. However, since the thermal transfer ribbon melts onto the label to print, this method creates a longer lasting, more durable print image that can withstand temperature extremes, light exposure, and more. Finally, the thermal transfer ribbon yields precise print images with clear edges—great for barcodes!